"...And they overcame and conquered him because of the blood of the Lamb and because of the word of their testimony...." - Revelations 12:11 AMP

What Are Impact Stories?
God always answers prayer that is based upon the promises of His Word. The Bible assures us that God wants to meet every need we have. Here at Living Faith Christian Center, we believe in the Power of Prayer. We believe that sharing what God is actively doing in our lives is an affirmation to our faith and a powerful witness to others.
The Mission of Living Faith Christian Center tells that we are " a local church with a worldwide mission to reach the lost, strengthen families and raise up servant leaders that IMPACT our communities and world with the Word of God!

Impact Stories are a testimony of how peoples lives are being changed by God's Faithfulness, Love and Healing Power in all areas of life including Physical Healing, Marriages and Relationship Restoration, Financial Freedom...here at LFCC.

Our hope is that the videos and the written testimonies will give you hope. You will experience the evidence of God moving and working in their lives and in their circumstances


---

Pastor Connie preached on the power of sowing on May 03, 2017. I began to immediately move by Faith and believe God for my blessing and be obedient to the word of God. Pastor Connie also taught from Deuteronomy 8:18 that thou shall remember the Lord thy God: for it is he that giveth us power to get wealth, that he may establish his covenant which he swore until our Fathers, as is this day.
I'm a member of Living Faith Christian Center and I am proud to be a member! Lately I will often miss service because of my needs for a permanent ride to go over the bridge. I live in the Philadelphia area an it's been difficult getting to church lately. Therefore, I often rent a car for the weekend for Sunday service, then I started renting on Wednesday night service as well, so I am able to be in service for mid week service. I've been working on my credit so I can be in better standards, but even after doing so, I still was having problems with being able to purchase a car. As a result of that, I just decided to just go to another dealer and try to get a car. I stood on faith and believed God for me to get this car and it happened with me giving little effort and allowing the sales representative to work on my behalf. Not only did I get a car, but I got a 2017 fully loaded Corolla Sedan from Toyota.
I thank God because he did what he said he would do! I've sowed two seed offerings of $500.00 on a Sunday, and again on Wednesday service when Pastor Connie was talking about needing money for new equipment for children church, and the sanctuary. Jeremiah 29:11 speaks on the plans he has for us and giving us an expected ending. God showed up on my behalf and given me my expected ending.

- Johnnie


---

I recall a message on God's Love by Pastor Roosevelt on 2/16/2014, as if he was talking right to me. I felt like I've been running from God through my life. I raised my hands and said, "God I surrender", and tears just fell from my eyes. I joined LFCC that day! Pastor Connie said "continue to come for a year, feeding on the Word and you won't be the same. I can bear witness.
Summer of 2015, I almost went into a depression and I shut everyone out, including my mother (who I'm close to). I just talked to God and continued to come to church, however. Pastor Roosevelt knew my situation and thanked me for still coming. That year, Pastor Connie was speaking on a "Faith Filled Life" and those messages helped me to build my faith as strong as it is now. I purchased a copy of almost every LFCC DVD sold that year. God had the woman that is now my wife tell me that I couldn't hold on to all the anger that I had because I'd block my blessings.
Since 2015, I've been stress free by handing my problems over to God and not worrying about them. I am blessed across the board – still growing in my relationship with God; married my high school sweetheart in December of 2016; loving my family and church family; have a good job and good health. I am grateful that God will destroy your plans, if he sees your plans destroying you.

- David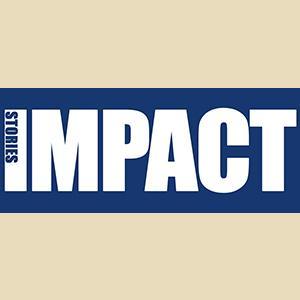 IMPACT STORIES